category: full length one-act play
genre: romantic comedy
running time: 1 hour 20 minutes
setting: a mid-sized American city
period: contemporary
characters:
Bryon June, a writer in his early thirties
Cara June, his sister in her late teens
Patrick, his current boyfriend, in his mid-twenties
Luke, his ex-boyfriend, in his early thirties
Rebecca, a psychologist in her early thirties
Esther, her sister, a singer in her late twenties
Doug, their ex-boyfriend, a psychologist in his mid-thirties
Olivia, Rebecca and Esther's mother
Agnes, Rebecca and Esther's aunt
Neil, Bryon's best friend, a teacher in his early thirties
Maria, his wife, a lawyer in her early thirties
Toro, Bryon and Neil's buddy, in his early thirties
Silvia Gable, a publisher in her late forties
Hamish, a publisher of erotica in his early forties
A Bartender
A Waitress
story:
Bryon and Patrick are a relatively happy, attractive gay couple living in a small American city (Portland) where Bryon pens porn and Patrick works as a performer in a drag nightclub. Rebecca is a charming but embittered psychologist who crosses paths with them while dating a mutual friend, Toro. Almost by accident, Rebecca and Patrick begin a love affair, making Bryon an unwilling participant in an open relationship he never wanted. At the same time, Bryon's aspirations of being a novelist suddenly take off when his friend Maria passes on a copy of his book to mainstream publisher Silvia Gable. At the same time he rekindles interest in a past boyfriend, Luke, who plays guitar in a band helmed by Rebecca's sister, Esther, who has recently flirted with Patrick. Throw into the mix Doug, Rebecca's ex who fathered a child with Esther but wants to get back together with Rebecca, and pretty soon the carefully balanced relationship web begins to snap apart and re-configure itself in ways that illustrate both how immature- and how grown up- this group of adults really are. In contrast to all of them is Bryon's sister, Cara, who is struggling to carve out an identity in her brother's shadow, and ultimately gets arrested after being at the center of a bomb scare at her high school. Bryon bails her out and the two move in together following Patrick's departure, though he and Bryon later reconcile after Bryon's book becomes a successful hit.
author's comments:
So I set out to purposefully write a mainstream sex comedy and this is what I got: more bisexuality, heated arguments, Jewish jokes, and not-so-subtle pop-culture slams than you can shake a stick at, and a bittersweet ending that isn't really an ending, for a show that falls apart, intentionally, even as it reaches its climax. All with a nice helping of sentimentality and ennui, of course. Friends of mine affectionately call this piece "The Exiled for Thirty-Somethings" but I think it actually exists in a much more whimsical world than The Exiled, despite the poignant ending, and thus sort of needs to be placed in a category of its own. Once or twice during its extensive gestation I thought of turning Rebecca and Doug into Regina and Abel, simply because it would be funny to think of their story morphing in such an unexpected way, but they emerged with such distinct personalities it would have been a travesty to lose them- Rebecca in particular. Technically the play is still connected to The Edenites in the most tangent of ways, through the character of Hamish, but I rather think it stands on its own, and is best thought of as outside "the Stuverse." The humor of this piece is, I think, some of my very best, on par with Attack of the Killer Space Zombies, and like that play I have a certain affection for Everybody Here Says Hello! (formerly called "Gay Porn Writers And the Women Who Love Them"), but I never expected it to be a bit of a breakthrough piece for me- even winning me a major regional theater award for Outstanding World Premiere (Theatre Bay Area Awards, 2014) and becoming the first of my plays to be published outside of an anthology. Oh well. We never get from anything what we think we will, I suppose. Anyway, it took me almost a decade to write: I started it in 1999, abandoned it in 2002, picked it up again in 2006, abandoned it once more, and wrote my final draft of it in early 2014 after it had been picked up for production by Wily West Productions in San Francisco. In some ways it's almost disappointing that it's been such a success because I can't exactly say that I sweat blood over it, though I did spend a great deal of time on it, I suppose, and I do really love the play. Like all of my best work (and it is one of the best things I've written, with a very tight structure and a surprising, unconventional use of first person address to create progressive layers of narrative), it comes from a very personal place, and the part where it took years to really find its voice means that ultimately it probably says what I want it to more than a lot of my other, more "serious" work. So it goes. Everybody here says "hello!".
A published version of this play exists and can be purchased HERE.
Staged Readings:
Black Ice Theatre Company, July 29, 2018 part of the Porch Stories series, in Lake Tahoe, California. Directed by Rich Sargent. Cast: Brittni Addison (Maria/Olivia), Briana Biller (Rebecca), Tom Callahan (Stage Directions), Thomas Lopez (Bryon), Ellen Martin (Esther/Cara), Troy Matthews (Toro/Waiter), Brandon McCarthy (Neil/Hamish), Kyle Moreno (Patrick), Rich Sargent (Luke/Doug/Bartender), Pam Taylor (Silvia/Agnes)
Productions: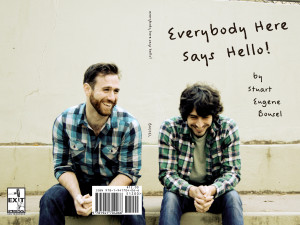 Wily West Productions, July 18, 25, 26, August 1, 8, 9, 15, 2014 at The EXIT Stage Left, EXIT Theatre, in San Francisco, California. Directed by Rik Lopes; Designed by Quinn Whitaker; Stage Managed by Alex Hinton. Cast: Dan Kurtz (Bryon), Nick Trengove (Patrick), Mikka Bonel (Rebecca), Katrina Bushnell (Cara/Esther), Sam Tillis (Doug/Luke), Wesley Cayabyab (Neil/Hamish), Sylvia Hathaway (Maria/Olivia/Waitress), Tony Cirimele (Toro/Sylvia/Agnes)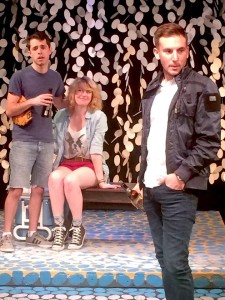 Pacific Play Company, September 11, 17, 18, 24, 26, 2015 at The Ballard Underground Theatre, in Seattle, Washington. Directed by Morgan Ludlow; Scenic Design by Brandon Estrella; Costume Design by Briana Schwartz; Lighting Design by Zanna Paulson; Stage Managed by Heather Bernadette. Cast: Andy Buffelen (Bryon), Madeline Delaplane (Esther/Cara), Erin Ison (Rebecca), Katya Landau (Maria/Olivia/Waitress), Andrew Opatkiewicz (Patrick), Josh Padilla (Toro/Agnes/Sylvia), Campbell Scarborough (Doug/Luke), Buddy Todd (Neil/Hamish/Bartender)