category: two-act, full length
genre: absurdist dramedy
running time: 2 hours
setting: A Mansions In the Woods
period: Contemporary
characters:
Marjean, a vampire hostess
Theodore, her vampire maker and guest
Bitsy, his girlfriend, a were-wolf
Sharon, a vampire of pure blood
Victor, her twin brother
Georgette, another vampire
Jameson, her boyfriend, a swamp creature
Sylvester, a very sexy vampire
story:
Former princess Marjean, a several hundred years old vampire, is hosting her annual Christmas party, attended by vampires from all over the world, despite the recent destruction of her co-hostess, Daisy, and her relatively recent break-up with Theodore, the vampire who made her. Theodore arrives with his new girlfriend, a werewolf named Bitsy, who Marjean immediately hates. Also in attendance are the twins, Victor and Sharon, who are pure-blood vampires, i.e. vampires born that way, as opposed to former humans who have been turned into vampires. Thousands of years old, they hate/love one another deeply, though Sharon's becoming progressively unhinged and Victor is contemplated destroying her before she can attempt to take over the world- her one true passion. Rounding out the group are lothario vampire Sylvester, and good-natured Georgette, whose boyfriend Jameson is a swamp creature. As the holiday progresses, tensions rise, culminating in a show down between Marjean and Bitsy that continues the age-old battle between vampires and werewolves, but doesn't get either closer to feeling confident in their relationship with Theodore. Ultimately alone, Marjean and the Twins contemplate the meaning of eternity as the bells of the New Year loom on the horizon and Jameson announces he has defied reality and gotten Georgette pregnant.
author's comments:
I wrote this play, more or less on a dare, with Allison Page, after we proposed it to the EXIT Theatre with very little else but a title and a vague concept that it would be about vampires… and Christmas. We came up with the premise while sitting at the Gallery Cafe, and then came up with the characters while sitting in The White Horse. I.e. coffee birthed this play, and beer cinched it. We divided the show up accordingly: I would write scene 2, scene 4, scene 5, scene 8, and scene 10, as well as major monologues for Marjean, Sylvester, Jameson, and Victor. She would write monologues for the remaining characters, and all the scenes in between. For the most part, we stuck to this formula, with me keeping an eye to the vampire mythology and the plot line centered on the twins, while she would keep an eye to the love triangle. A smattering of lines from each of us would end up in the other one's scenes, but at the end of the day it sort of miraculously worked out, in part due to our long standing friendship which allows for a tremendous amount of insight on how to write in one another's voices. It didn't hurt that we also loved the characters and loved to write for them. As the show moved towards production, the enthusiasm of the actors and the director made for an even more engaged writing process, and while we retrospectively wished we'd made the first act shorter, one the whole the first production was a dream. As for the play itself, it's a very witty, very fantastical meditation on friendship, particularly over many many years, and it's loosely connected, through one line, to the world of Gone Dark, thought it's a much lighter play. For all its frivolity, though, it's also very poignant, unexpectedly touching when you least expect it, and thoroughly post-modern in its utter disregard for genre and anything resembling "the well made play." Actors love it. Especially since it doesn't require fangs- but certainly has them.

Performances: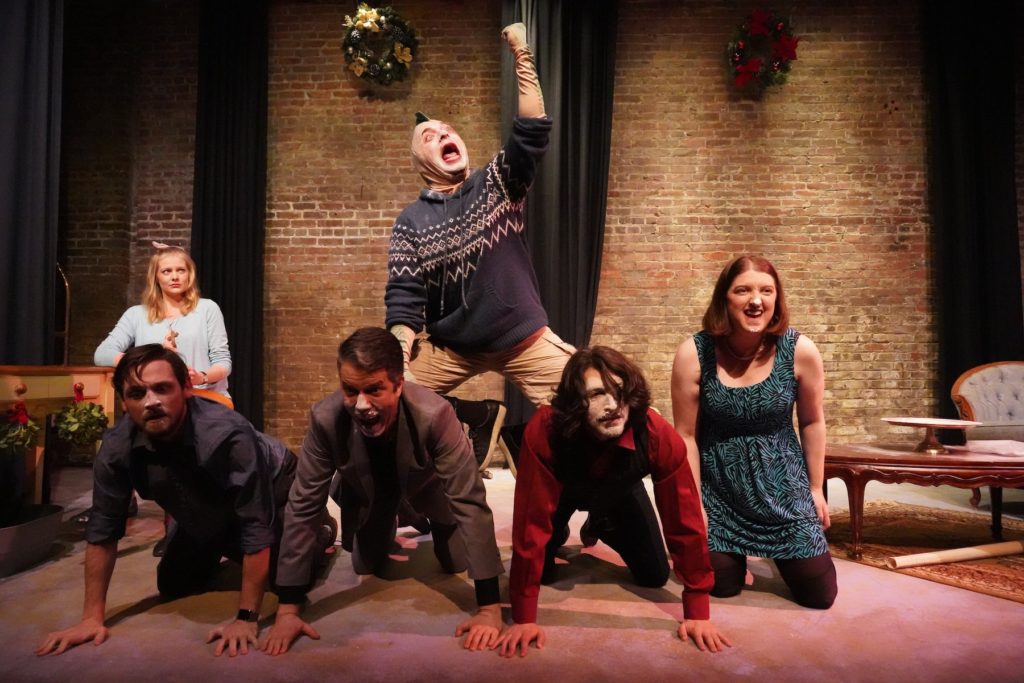 The EXIT Theatre, November 29 & 30, December 1, 6, 7, 8, 13, 14, 15, 2018 at the EXIT Theatre in San Francisco, California. Directed by Alejandro Emmanuel Torres. Lighting by Curtis Overacre. Costumes by Stephanie Dittbern. Scenery by Amanda Ortmayer. Sound by Ryan Lee Short. Fight Choreography by Kyle McReddie. Artwork by Cody Rishell. Stage Managed by Linda Huang and Jason Mendez. Cast: Sam Bertken (Theodore); Megan Briggs (Georgette); Laura Domingo (Marjean); Dan Kurtz (Victor); Elliot Leiberman (Jameson); Amitis Soukhro (Sharon); Matt Weimar (Sylvester); Wera von Wolfen (Bitsy).