category: full length play with songs
genre: drama
running time: two and a half hours
setting: New England
period: the mid 1980s
characters:
Kristin, an 18 year old aspiring musician, vocals and guitar
Kristin's Shadow, the manifestation of her musical ability
Tea, an 18 year old aspiring musician, vocals and guitar
Leslie, an 18 year old aspiring musician, bass
Dave, an 18 year old aspiring musician, drums
Betty Hutton, an aging actress and recovering alcoholic
Mark, a science student who rides a motorcycle
Jeff, a painter
Doctor Syllables, a psychologist
Doctor Soother, a psychiatrist
Gary, a record promoter
Gil, a record engineer
Ivo, a record producer
Teacher of an Art Therapy course
Bob, a college student
Female Student, a pretentious college student
Male Student, a nerdy college student
Biker, a fan
Dude, a college professor, Kristin's dad, an off-stage voice
Crane, his wife, her mother, an off-stage voice
Five Reporters, all off-stage voices
story:
In the mid-1980s Kristin is a strong willed, intelligent Rhode Island college student and aspiring musician. With her bandmates Tea, Leslie, and Dave she is part of a new music movement coming out of New England, a sort of melodic punk that is building momentum in Boston. Able to see sound, Kristin often feels haunted and even possessed by music she has heard since she survived a traumatic car accident. The music manifests as hallucinations and other voices, shadow versions of herself that she is both entranced by and scared of, but their actual origin is a mystery until a suicicde attempt lands her in a mental hospital where she is diagnosed as bi-polar. She moves to Boston with her bandmates, hoping to start over, and discovers she is pregnant. As the band begins to achieve real success, including a record contract, she runs away from the recording studio, convinced that the music she is making will hurt her baby, but the support and love of her friends, including retired actress Betty Hutton and a mysterious boy named Mark who may or may not be a ghost, helps set her on the road of making peace with who she is and the particular struggles of her life.
author's comments:
This was an adaptation of rock star Kristin Hersh's memoir, Rat Girl, which I'd read with tremendous love and empathy, almost feeling like she was someone I had grown up with because so many signifiers of my own youth were present: the progressive but occasionally clueless parents, the liberal arts education and all its cliches and pitfalls and quirks, the sad and poetic conversations with friends I loved and felt alienated by at the same time, the fear of success and the refusal to take anything seriously while still being incredibly serious. It all felt like pages from a diary I had never kept. I reached out to Kristin and in a series of emails and phone calls was able to get permission to adapt the book for the stage, a project I then proposed to DIVAfest and which they green lit. From there, things were never as easy again, and it was a long and often difficult road to the production itself, which had many plusses and minuses going for it, dividing audiences and critics, and creating its own little temporary cult following. Rather like Giant Bones before it, this was, more than anything else, a learning experience. With the first one, I had taken on too much personally; with this one, I stepped back more than I should have, and the final product, though admirable in many ways, didn't reflect why I had been drawn to the project in the first place, and thus felt muddled. Still, it was a labor of love for most of us who were a part of it, and that it happened at all is a pretty amazing feat. I got to sit down with Kristin herself and interview her about the book, and that will remain a highlight of my life. She's a luminous human being, and a role model artist, and I'll always be grateful for the time she gave me and the trust she had in me to tell her story.
Productions: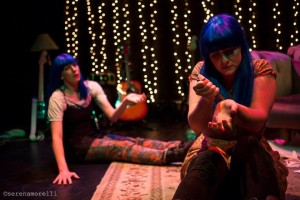 DivaFest, May 1, 2, 3, 8, 9, 10, 15, 16, 17, 22, 23, 24, 2015 at the EXIT Stage Left, in the EXIT Theatre in San Francisco, California. Directed by Claire Rice; Musical Direction by James Grady; Stage Managed by Mark Weddle; Production Managed by Amanda Ortmayer; Lighting Design by Beth Cockrell; Scenic Design by Joshua Saulpaw; Sound Design by Christine McClintock; Projections by Colin Johnson; Artwork by Cody Rishell. Cast: Heather Kellogg (Kristin), Allison Fenner (Kristin's Shadow), Shay Wisniewski (Tea/Female Student), Sam Jackson (Leslie/Teacher), Eli Diamond (Dave/Male Student), Nathan Brown (Mark/Ivo/Doctor Syllables/Biker), Christina Augello (Betty/Doctor Soother), Tim Green (Jeff/Gary/Gil/Bob), Claire Rice (Crane), Stuart Bousel (Dude), Paul Jennings (Reporter), Neil Higgins (Reporter), Megan Briggs (Reporter), Eden Neuendorf (Reporter), Matt Gunnison (Reporter).